Dunshan – Stainless Steel Press Fittings Manufacturer of China
Are you looking for high-quality stainless steel press fittings at affordable rates? Contact us with Wenzhou DunShan EPT Co., Ltd. is a well-known stainless steel press fittings manufacturer in China that offers the best quality ss press fittings products at affordable prices. You can find a wide range of international standard stainless steel press fittings in China on our platform. Our SS press fittings system is paramount to safe connection efficiency and is the hallmark of high quality. Our press fittings are available in various sizes according to varied scales and consumption demands, including all standard and non-standard sizes. They are best suited for a wide range of civil, chemical, and industrial applications and perform efficiently in all these segments, ensuring connections even in corrosive and sensitive applications. Read More
Achieve Reliable Connections Every Time with Our SS Press Fittings!
Explore our complete range of stainless steel press fittings in China to make a lifelong partnership with us. We design and manufacture excellent press fittings stainless steel products for quick, assuring, permanent, and watertight seals that are best for all application requirements. Buying from us vanishes our customer's concerns about durability and service life. Dunshan is an internationally known premium quality stainless steel pipe offering competitive prices, fast delivery, and rich OEM/ODM services. With our extensive industry experience and expertise in delivering large consignments on time, our China SS press fittings products have become a prominent part of China's exports reaching many different native and not native regions.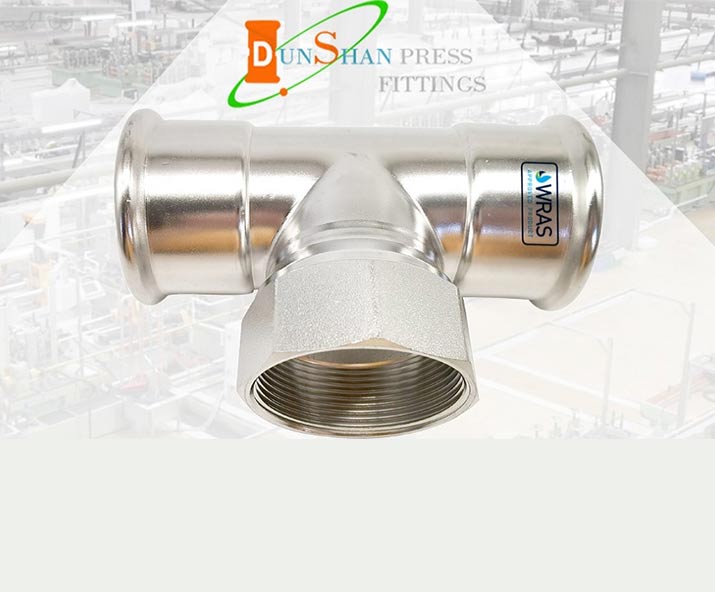 What Make Us Prominent Press Fittings Supplier In International Market?
As a leading stainless steel press fittings manufacturer in the global market, we have a reputable market name for providing the best press fittings stainless steel products, suitable for a wide range of applications. Our company is blessed with skilled and technical labor to carry out each step of manufacturing from scratch till the delivery of the final product to the customer, under the strict observation of the quality control team. Our manufacturing plant is loaded with high-tech machinery and modern tools to place step after step with modern technological innovations. Press fittings stainless steel is our main product, and we also deliver our customer's best-customized products according to the needs of their industry. Read More