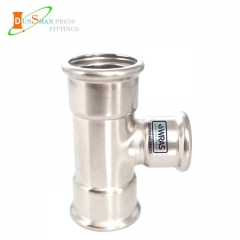 The "press-fit" fitting technique perfectly meets several essential requirements combined with long-term reliable service. For instance, if any contractors want to save their time installing a pipe system, they can go on smoothly with this technique. With significantly fewer efforts and a fraction of time, you can work out great with press-fitting compared to brazing, welding, and soldering.
Moreover, to ensure public health in the making of the portable water system, portable water requires the utmost neutrality of the material that neither changes the color nor the taste of the water. Due to this, the exceptional formability of stainless steel and proven objectivity make the press-fit a perfect-fit system. Factually, the connections made with the press-fits are secure, cost-effective, and dynamic. Unlike traditional methods, it offers you job-site safety and quickly-managed work with the least chances of any leakage.
In plumbing and trades, you know connections between pipes must be made effectively, which must be staunch and frugal. To your knowledge, certain materials are used, including carbon, steel, stainless steel, almunium, plastic, etc., in the press-fit technique. With a life of 50 to 100 years, the perfect fitting system has a vast area of working and different applications, discussed below. Let's get started:
Chemical Lines
Gas Lines
Greywater Lines
Hydronic heating and cooling systems
Portable water system
Fuels, oils, and lubricant lines
Chemical Lines
The inox fittings are chemically resistant, said plumbers, allowing any industry to benefit from it. Press-fits that get approved for pipe systems applications might carry high corrosive chemicals like phosphoric and nitric acids. And, as there is no flame to make a secure connection between joints, the danger is highly reduced and excluded.
Gas Lines
Press fitting is an ideal choice to make use of gas lines and compressed air systems worthy. With the press-fit technique's help, the gas lines can quickly be installed in any of the substances, including stainless steel, carbon steel, and copper press-fitting. When installed correctly, press-fitting yields an airtight pipe connection and appropriate sealing.
Greywater Lines
To manufacture a secure drainage system, you can have press-fitting as a life-saver at your side. It could be an excellent solution, which has vast applications in greywater lines due to its efficiency. Moreover, while installations, time is crucial to saving to make complete repairs and connections in wet conditions.
Hydronic Heating and Cooling Systems
Investing in press-fitting will ultimately pay you off when it comes to hydrogenic systems. But, select one that can be used in conjunction with chilled water and hydrogenic heat applications because this system is highly resistant to ethylene glycol and propylene glycol chemicals. Numerous manufacturers produce press-fitting in carbon steel, stainless steel, and copper approved for applications.
Portable Water System
National Sanitation Foundation has offered the certified yet lead-free copper and SS fitting to use specifically in the portable water system. Whether in residential new construction building projects or large-scale commercial applications, press fittings make it easier to install both the hot and cold lines for contractors. The press-fitting technique can also be used in reverse osmosis drinking water systems to fulfill the demand for filtered drinking water.
Fuels, Oil, and Lubricant Lines
For keeping industrial operations running, well-oiled machines are required, which you can have with press-fitting for pipe connections. The press-fit technique offers safety while used with combustible substances from fuels like butane, kerosene, propane, and diesel to petroleum-based lubricants and oils. To find the best carbon, stainless steel, and copper press fitting, be sure to check manufacturer specifications given according to the fuel or oil type.