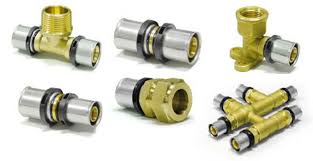 Press fittings are one of the most essential types of fittings needed with valves in the Piping system. The reason is press fits make stronger connections. With the aid of press fittings, connections can be made in very little time in contrast to conventional techniques like welding or soldering pipe. Also, significantly less training is needed to work with the press-fits compared to brazing, welding, or soldering. This makes press fittings an ideal as well as a labor-saving solution, especially when it comes to the incorporation of large-scale pipe systems.
Press Fits Guarantees Jobsite Safety
Working with the press-fits is totally safe and safer. This is because press fittings provide extra safety because there is no flame or heat needed to make connections. This decreases the risk of worker injury on the site of the job. Less safety gear is needed to function as a press tool in contrast to welding or soldering, which can offer additional cost savings.
The Versatility of Press Fits
The press-fits are highly versatile and dynamic. They are available in the market in a variety of different materials, including copper, carbon, stainless steel, etc. This makes them apt for a variety of other applications, such as gas, corrosives to steam, petroleum, potable water, etc. Most plumbers, builders, HVAC professionals, and commercial mechanical contractors consider stainless steel fitting tubes their preferred choice.
What Makes Stainless Steel the Best Choice For Fittings?
The stainless-steel is a high-quality material and provides all the reasons that make them the best choice for making fastening connections. These are resistant to corrosion, rust, erosion, etc., and last for a longer time. Stainless steel is also the most hygienic material ever, which even makes it suitable for drinking water applications. It makes robust connections as well. Also, it is easy to maintain these types of press fits and requires very little maintenance.
For More Information Click Now:
M press fitting system, inox press fittings, press tubes fittings, ball valves press system, V profile press system, Press fitting pipes, Thin-wall pipes, ss pipes system, propress fittings